2021 PRE-HOSPITAL EMERGENCY MEDICINE INTRODUCTORY COURSE
10 March 2021 1:49pm

Back to News Home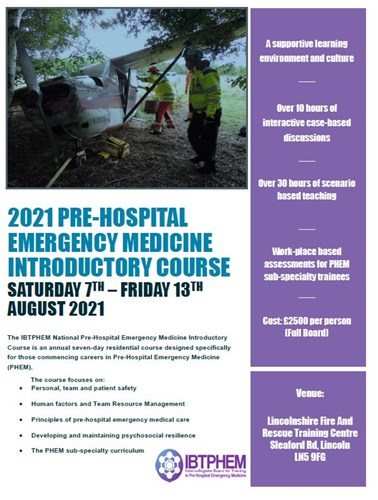 The IBTPHEM National Pre-hospital Emergency Medicine Introductory Course is an annual seven-day residential course designed specifically for those commencing careers in Pre-hospital Emergency Medicine (PHEM). The course focuses on:

•  Personal, team and patient safety
•  Human factors and Team Resource Management
•  Principles of pre-hospital emergency medical care
•  Developing and maintaining psychosocial resilience
•  The PHEM sub-specialty curriculum

The course is delivered by a multi-professional faculty of experienced PHEM practitioners supported by administrators and guest speakers. The course is residential and all-inclusive with accommodation and meals provided at the DoubleTree by Hilton Hotel, Lincoln. The course provides:

•  A supportive learning environment and culture
•  Over 10 hours of interactive case-based discussions
•  Over 30 hours of scenario based teaching
•  Part-task and full-immersion simulator based training in different PHEM environments
•  Medical and Surgical Skills workshops
•  Major incident training
•  Work-place based assessments for PHEM sub-specialty trainees

Cost: £2500 per person

The course is open to people working in, or interested in a career in PHEM who are:
•Fully registered doctors of ST4 or above (including Consultants, SAS Doctors and GPs)
•Critical care or trainee critical care paramedics
•Nurses working in acute specialties who have been fully registered for at least 4 yearsYou will require the following PPE: fluorescent jacket (or 'flight suit'), gloves, helmet and boots. To apply please complete the form below and email to ibtphem@rcsed.ac.uk. Please note that you will not be permitted to undertake the course if you do not have insufficient post-registration clinical experience.